Like many other dreams and projects, this one started years ago, when I read a book written by a French couple, Francoise and Claude Hervé, who cycled around the world from 1980 to 1994. I was fascinated by their story. But at the time, I was doing my Master's Degree in Biology and was even more interested in exploring the North. Shortly after I completed my studies, I moved to the Yukon where I lived for over 10 years and ended up realizing another, older dream: to run sled dogs.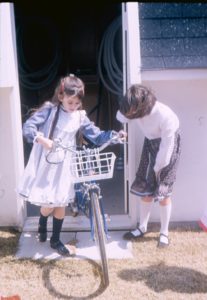 It was probably the most amazing chapter of my life, but after 7 years of sedentary life, the desire to do something different and to explore the world a different way got stronger.
I can't really remember exactly how the dormant bike touring seed started to germinate, but I remember following the blog of Dominic Gill who started in Prudhoe Bay in 2006 and cycled all the way to Ushuaia on a tandem bike, inviting people to join him on his journey. I remember looking at the empty seat and thinking I could be sitting there… In 2007, too many dreams like that were on hold because I had a dog team so I finally retired from dog mushing and started traveling. But not on a bike yet…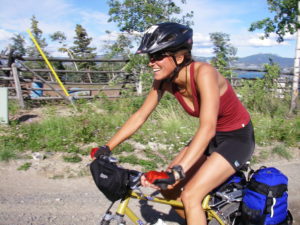 What really tipped the scale was a book I bought in 2014, written by Alastair Humphreys who cycled around the world from 2001 to 2005: Moods of future joy, followed by Thunder and sunshine. Alastair's books are so inspiring that it made me want to go on my own cycling adventure.
However, due to old injuries, I wasn't sure if I would be able to do a long distance bike trip. In 2015, with the Alaska to Ushuaia project in mind, I cycled the "Route des bleuets" in Quebec, an easy 250+ km trip that I did fully loaded, to get an idea of what it would be like to do a long trip. To be honest, I nearly quit in the parking lot where I had parked my vehicle to start the trip: I really didn't think I could ride such a heavy bike! Even more embarrassing, I managed to ride around the lake in the wrong direction! But I enjoyed it, a lot!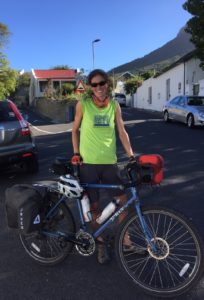 Over the following 2 years, I did short bike trips in Greece, Thailand and Cuba, and a longer one in South Africa, read over 40 books and blogs about people who did incredible journeys and I kept dreaming… Until a friend asked me when I would start. I heard myself say June 2018.
There is a very exciting moment when a dream becomes a project. At that time you know that you crossed an invisible line and that there is no turning back.
Unfortunately, I struggled with knee issues before I left for my first attempt to ride the Americas. I tried but had to quit after only a week of riding (it was brief but quite an adventure!). I spent the next 12 months obsessing about trying again. I biked all winter in the cold Yukon to keep my knees 'warmed up', went biking in East Africa to see how my knees would react, and bugged my friends all year with my worries. My knees are still uncertain, but I decided I'd try again…
The adventure continues…