It's always interesting to see and compare what other travelers are taking on their bike touring adventures. I benefited from reading equipment lists and gear reviews on other people's websites, so I decided to do the same. Of course the list will evolve, especially the clothes that I take with me. Since the first week or so requires winter gear, I carry extra clothes that I will eventually leave behind.
The whole thing, including the bike but not including water, weighs… just over 100 lbs!
Bike stuff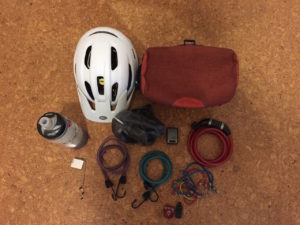 4 Arkel panniers (Orca 45 and Dolphins 48)
Ortlieb handlebar bag
700 ml insulated water bottle
2 x 1L "disposable" plastic water bottles
Cateye Velo 7 cyclometer
2 big bungees
6 small bungees
Bike lock
Helmet
Take-a-look helmet mirror
Blackburn USB rear light
Repair kit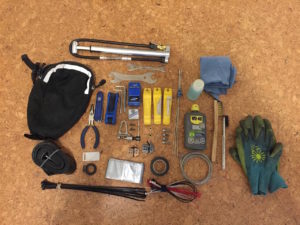 Saddle bag
Set of Allen keys
Tube repair kit
Spare tube
3 tire levers
Mini pump
Long nose pliers
13-15 mm and 8-10 mm wrenches
ParkTool chain tool
2 chain pins
Union cassette lockring tool/spoke wrench
2 presta-schreider adaptors
4 spare bolts
2 cable caps
1 brake cable
1 gear cable
5 spokes
Swiss army knife
Chain lube
Chain cleaner
Rags
Cleaning brush and tooth brush
Gloves
2 set of brake pads
Electrical tape
Duct tape
Seam Grip
Tie-wraps
Electronics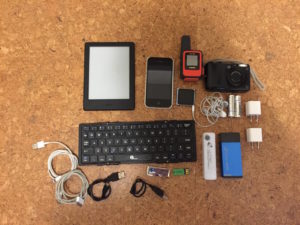 iPhone and cable
Portable keyboard
InReach Mini and cable
Kindle and cable
Small camera and AA batteries
iPod Nano and cable
2 USB wall chargers
2 small battery packs (Goal Zero)
2 USB sticks
Bedroom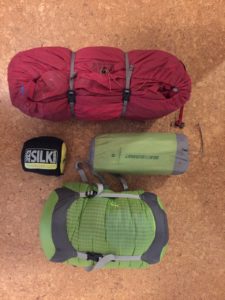 MSR Hubba Hubba tent (2 person)
Blue tarp to be used as footprint
Sea to Summit Comfort Light insulated sleeping mattress
Mountain Hardware -18C down sleeping bag
Sea to summit silk sleeping bag liner
Hammock
Kitchen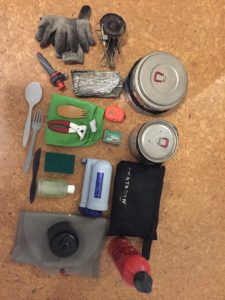 MSR Whisperlight stove
591 ml fuel bottle
Gloves to play with dirty stove
1.5L MSR titanium pot with handle (with cozy pot)
0.85 MSR titanium kettle (with cozy pot)
500 ml Nalgene container (used as bowl to eat or to save leftovers for the next day)
Lighter/matches
Scrubber/very small dish towel
Campsud soap
Plastic spoon, fork and knife + bamboo spork
Pro Hiker Katadyn water filter
Iodine/Aquatabs
4L MSR Dromedary bag
Kevlar bear bag (for the Alaska/Yukon/BC portion):  Replaced by a full size bear canister after squirrels destroyed the bear bag. Will be sent home once I am outside of bear country.
First aid/Toiletries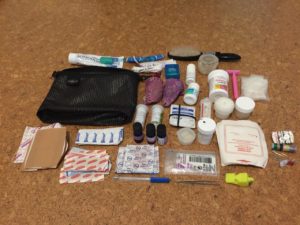 Sunscreen
Bandaids/Hypafix/Steristrips
Waterproof first aid tape
Pain killers
Gastrolytes
Probiotics
Cipro/Azythromycin
Malarone (when in malaria country)
Immodium
Arnica ointment
Anti-inflammatory ointment
Zinc oxide
Thermometer
Essential oils (maleleuca, eucalyptus, thyme)
Tweezers
Eye drops
Eye shades (mask)
Q-tips
Ear plugs
2 diva cups
Tooth brush
Tooth paste
Floss
Hair brush
Hair elastics
Razor
Thread and needles
Latex gloves
Other stuff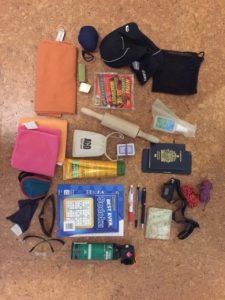 Journal
Pens/pencil
Money belt/wallet
Sunglasses/safety glasses
Passport and photocopy
Immunization record
Money
Credit cards/bank cards
Passport pictures
Maps
Notes
Family/friends pictures
Sudoku book
Mini playing cards
Headlamp
Bear spray
1 small towel/2 face cloths
Soap
Mosquito head net with ball cap
Muskol
Rolling pin! Yes, a rolling pin! It's to massage my legs… Helps my knees.
Clothes
This  will vary a bit according to the area where I travel:
Goretex jacket
Reflective vest
Rain pants
Shoe covers
2 bike shorts
2 convertible pants
Long johns
3 pairs socks
Goretex socks
3 underwears
2 tanktops (built in bra)
1 quickdry shirt
2 merino long sleeve shirts
Fleece jackets (one thin and one thick)
Small insulated synthetic jacket
1 T-shirt
Arm warmers
Leg warmers
2 Buffs
1 scarf
1 tuque
Thin fleece mittens
Neopren mittens
Bike gloves
Hiking shoes
Bikini
Plus water and lots of FOOOOOOD!!!