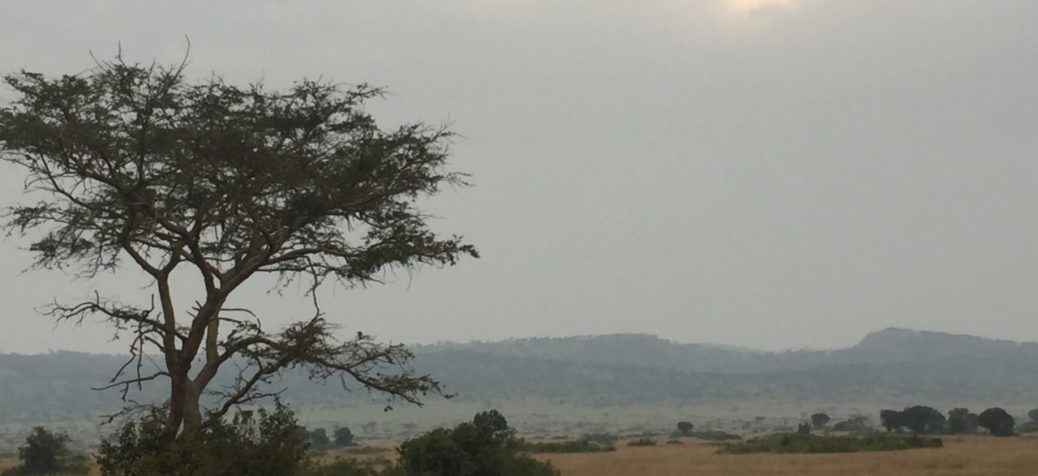 Sleeping with hippos and relaxing in Fort Portal
Sleeping with hippos and relaxing in Fort Portal
After riding next to elephants, monkeys and ungulates, I spent the rest of the day reading and enjoying my hammock once more. But my wildlife encounters were not over for the day. In the middle of the night, I woke up to the sound of hippos walking around the campsite. Even if they look like harmless big cows, hippos are the animal that kill the most humans in Africa (if we disqualify the mosquitoe because it is only the carrier of several diseases…). But everyone says that animals here don't attack campers in their tent. Whether it is true or not I don't know, but I chose to believe it! Luckily I didn't have to get up in the night.
In the morning I left early again, and rode north. After days in small villages and protected areas, being on busier roads and traveling through more urban areas was strange. The only advantage is that few people cared about me, and no kids were running in my direction. The major disadvantage is the dust. It was insane. And with the mix of sunscreen and sweat, the dust really sticks to me. Maybe this is why people didn't notice me today: I was black! But my eyes and lungs were not very happy…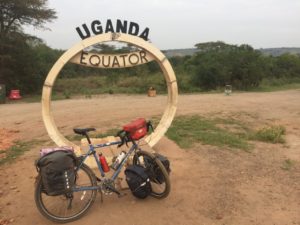 40 km later, I was in Kasese, a not so exciting place to spend the day, and it was only 9:30! So I took a bus to Fort Portal, a 'big city' from where there are a lot of possibilities to explore. It is at the foot of the Rwenzori mountains, very green and very hilly… The bus ride was interesting, we passed a huge outdoor market, and later a place were about a hundred men, all with huge stacks of green bananas piled on their motorbikes were selling their 'matoke'. It was so colourful!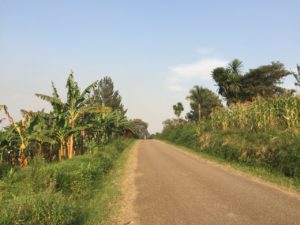 I ended up in yet another beautiful lodge, the Rwenzori View Guest House, where I was offered to camp for free as long as I took my meals here. And a shower… Well, they didn't really say that, but they told me the price for the shower… I think it was a hint. The drain in the shower was slow and I ended up in a pool of red mud.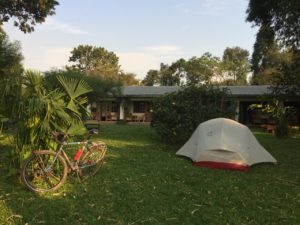 Feeling all fresh, relaxed and clean, I walked around town, visited a big market and a hostel next door, called YES for Youth Encouragement Services. The hostel helps finance a small NGO that takes care of HIV positive orphans. The founder and executive director of that NGO is a very inspiring American woman, former horse trainer in Hawaii who realized one day that she wanted to spend her life doing something that would benefit others, and so she ended up in Uganda and has been here for about 25 years. We had a great long chat, talking about AIDS, consumerism, tourism, begging, politics, adoption, etc.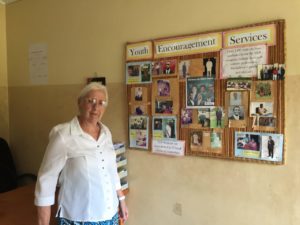 A lovely 74 year old lady, very strong, who was told several times that she would be killed because of the work she is doing… But she continues, even though the situation with AIDS is getting worse. She told me that because some NGOs give condoms, people have a more active sex life, and sometimes they run out of condoms but they won't stop having sex. And so more people get infected. The old myth that having sex with a virgin will cure people with AIDS is also still very much alive. And the NGOs and government campaigns to reduce stigmatism for people with AIDS and HIV+ certainly helped people who are affected but unfortunately also sent a message that AIDS isn't all that terrible. All these things done with the best intentions but with counterproductive results.
Carol had tons of heartbreaking stories and facts to share, including the reason why Uganda banned international adoptions: kids were sold for their organs. But she remains positive, focuses on the happy stories, of which she also had a lot to tell.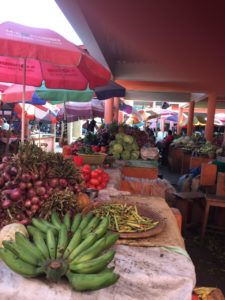 And while I am biking around, and meeting people, I appreciate the beautiful sceneries, wildlife, and cultural experience, but it is hard not to feel overwhelmed by the harsh reality of life in this part of the world.