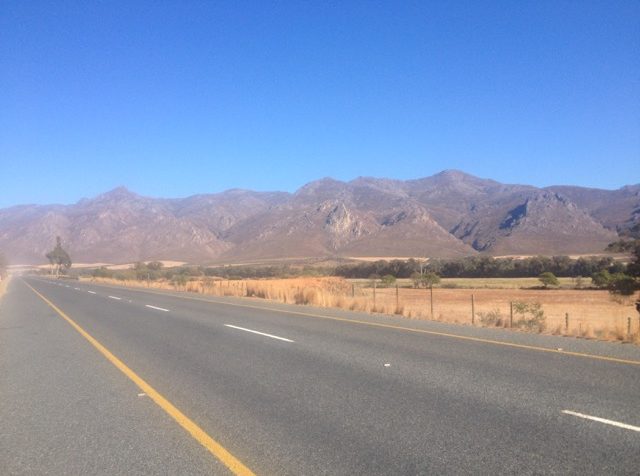 Finally some rain!
Finally some rain!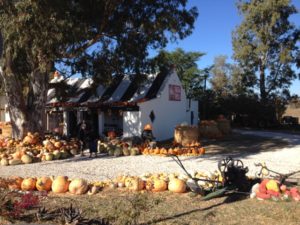 As I am writing this, it is pouring rain outside, and I mean pouring, a real nice thunderstorm, and I am very happy I am under a roof. And a very nice one! A cyclist that I had contacted when I was thinking about coming to South Africa invited me to stay with him and his wife, in Stellenbosch. I don't know if I have ever met anyone so enthusiastic about tour cycling, it is actually touching to listen to him talking about his experiences and how much he loves to travel on his bike. There is definitely something very addictive about bike touring and it's nice to meet other people who can fully understand why I like it too.As I left Robertson 2-3 days ago, I didn't expect the scenery to be all that nice. Not sure why, maybe because the roads get busier and I feel like I am getting close to a big city, but that was underestimating South Africa: it had more stunning scenery in reserve!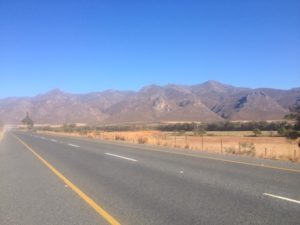 The morning I left Robertson, I managed to find an almond croissant and good coffee, which gave me the fuel I needed to reach Villiersdorp. The first part was along the main road, busy and maybe a little less exciting but soon the next mountain range was in sight and it was beautiful. And I had a tail wind!!!
Then I ended up on a smaller road and it was stunning, again. I even took a nice lunch break when I found a small shady area, as it was a very hot day. I didn't know what to expect when I reached Villiersdorp, but it is actually a peaceful little village and a nice family who owns a B&B offered me to stay in their backyard. The next day was going to be very short, but I had to go up the Franschhoek Pass, which is 13 km long, but very gradual so it wasn't as hard as I had feared. The pass is amazing, and I got there just as the morning fog was dissipating. Unfortunately, my cell phone decided to take the morning off and I couldn't take pictures on the way up.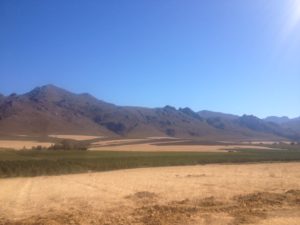 Franschhoek is not very French anymore, but it is well known for its good food. It is very touristy but worth a day for sure. I visited the chocolaterie, they do tours and chocolate sampling, which of course, was perfect to recover from the morning climb. I visited the local market and had a good chat with the vendors from Zimbabwe, very friendly and of course they were disappointed that I couldn't buy anything since I can't add more stuff to my luggage. Spent the night in a nice campsite a little away from town, very peaceful place.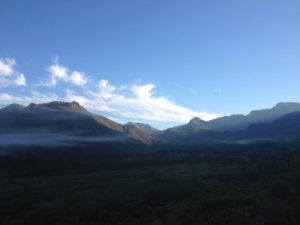 And this morning, the ride was short and easy. About half way, I saw a car parked on the side of the road, and that was Aubrey, who had printed a nice map for me to find his place. How nice is that!!! That, again, put a huge smile on my face, and about an hour later I was at his most beautiful place, for a nice cup of coffee, and a delightful shower! As the rain comes down like crazy, I feel like the luckiest person in the world. Now I have the rest of the day to see Stellenbosch before I cycle back to Cape Town tomorrow.