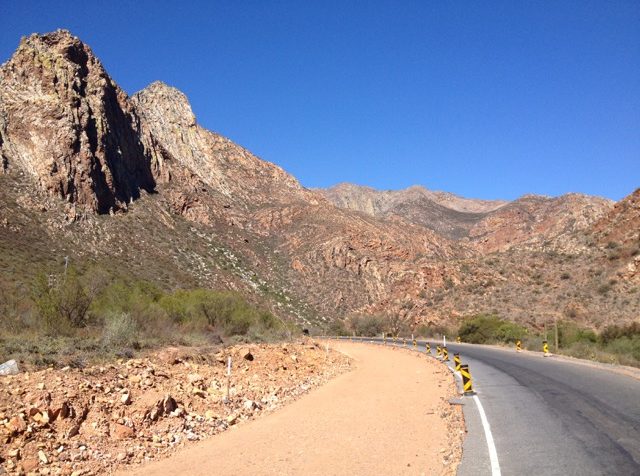 More miles, more food, more fun!
More miles, more food, more fun!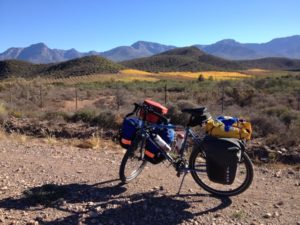 It is starting to feel like the end of my bike trip is near. But I am still accumulating incredible memories and enjoying this trip immensely.
After a night in Calitzdorp, under the stars in my hammock again, I left early after some of the other guests wished me safe travels. It was a beautiful morning, cool weather, thank God because I had a really long hill to climb. But I felt good that day and it went really well and of course going up usually means there will be some downhills eventually… Some of the people who had stayed at the same campsite as I did stopped when they passed me, offered me water, pepper spray, etc. It was fun to stop and chat for some time, I wasn't in a rush! And they were all lovely people.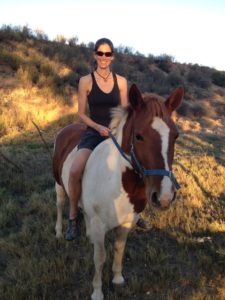 I arrived in Ladismith before lunch. The Swiss had met a nice couple there and they had invited me to stay at their farm. Ben was leaving for a couple of days, but Anita was home and waiting for me. I had such a great time with her, it was like we knew each other for a long time. They live on a beautiful farm, and are in the dried fruit business. We spend a wonderful day together, with the 4 dogs, 3 cats and Stella, the horse. I even had the chance to ride Stella bare-back (well, Anita was holding her and Stella is very easy-going), which was another highlight.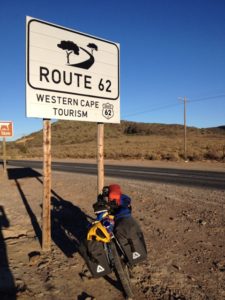 We went for a drive so I could see the beautiful valley, visited Anita's mother, and went for supper in a nice restaurant with one of her friends. What a treat again! And when I left, Anita gave me a lot of food, including a huge bag of dried fruits. Now I know for sure I carry more weight on my bike than what I weigh. I was already at 47 kg without water but with my new books and all that food, and my water, I must be close to hitting 55 kg (including the bike, of course).
Leaving Ladismith, it was a super fun winding road. Then I arrived at a cafe where my Swiss friends had told me they make the best cheese cake in Africa. I wasn't hungry at all (for once) after the breakfast Anita had given me, but I had to stop anyway. The cafe was closed but the brother of the owner was just outside. When I told him that I heard they made the best cheese cake in Africa, he was so happy that he opened the shop and gave me a huge piece!! I put it on the front rack of my bike, and had it in sight, which probably made me pedal even harder!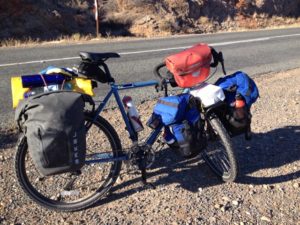 An hour or so later, I stopped at he famous "Ronnie's Sex Shop". I ran out of money and needed a job so… No, of course I am kidding. It is not a sex shop. It is a cafe in the middle of nowhere that wasn't doing so well until the owner added the the word "sex" to his shop…
Had a milkshake.
Then I continued to Barrydale, a nice little town with lots of cafes. I stopped at one of them (Diesel and Creme), had a great time chatting with people and eating (of course). Went next door to the Backpackers to find out they were full. Damn… I forgot it was Saturday plus they had a big wedding in the village. So I tried different places, couldn't find anything. Eventually a nice lady agreed to let me stay on their lawn. I was relieved and had a wonderful evening with her and her husband.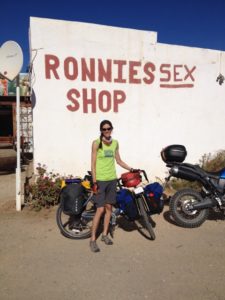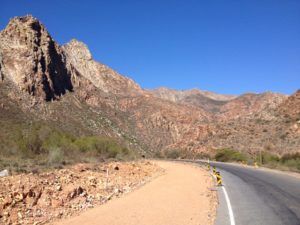 And today, I sluggishly rode to Montagu, another nice village. Stopped at a cafe where the owner probably realized he had a big fish: he came to see me every 10 minutes to make sure I had enough food. I spent 3 hours there (and had my first croissant in more than a week) and finally decided to continue to Robertson. The weather was nice (tail wind, not to hot, sunny) and I felt more energetic after all that great food! Met 2 French cyclists on the road, who have been cycling for 3 years. Makes my adventure seem very small, but I have so much fun!
A few more days and I will be back in Cape Town. Hard to believe that this is coming to an end, but one thing for sure, I enjoyed every minute of it!