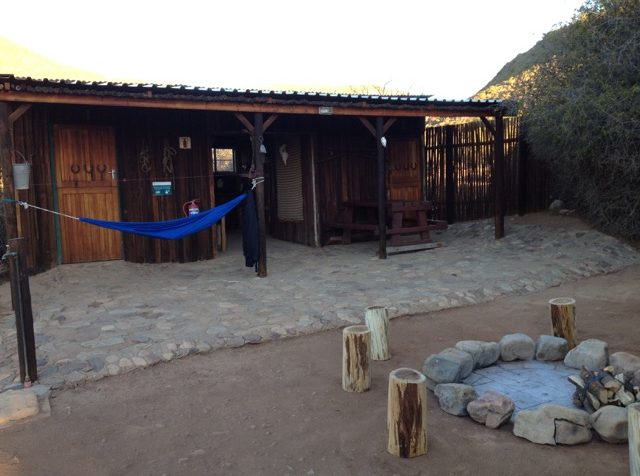 More amazing places and meetings
More amazing places and meetings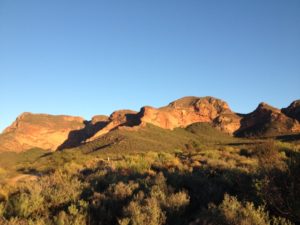 3 more days on the bike, but 3 easy days, which was good to recover from my 3 previous hard days. Even if they are short, easy days are often full of surprises, and chance meetings. It never seems to be boring.
From De Rust, I arrived in Oudsthoorn at 8:15… It was flat and I hardly needed to eat again, but why not. I stopped at a nice cafe. Then I installed my tent and hammock at a fancy Backpackers. I had missed my hammock a little, so it was great to get it out again. Oudtshoorn is a city, but pretty easy going it seems, and I enjoyed walking around, chatting with locals, grocery shopping and they even had a used bookstore.
I had initially planned to go to Prince Albert from De Rust and take the Swartberg Pass, apparently one of the most incredible passes in the world, and the steepest in South Africa, but a big storm recently damaged the gravel road badly, it was closed to regular traffic (but I could have gone on my bike), and I developed some pain in a tendon so decided to just take it easy and skip Prince Albert. That will give me another reason to come back to South Africa.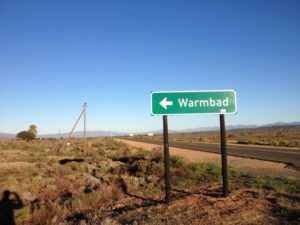 From Oudsthoorn, I had another very short day to the Gamkaberg Nature Reserve. I had been in touch with the manager, thanks to my friend from Cape Town, so they were expecting me there. The Reserve is small and easily missed, but it is a real gem. It has a huge diversity of animals and plants, is recognized by UNESCO, and so well managed, I don't think I have ever seen something so clean, well organized, you can easily tell that people who work there really care about the place. Tom, the manager, went for a walk with me, showed me some ancient rock paintings and we had a really nice discussion about conservation. The campsite was completely deserted, so at night I had the whole place to myself, made a campfire and slept in my hammock under the stars: absolutely amazing. The Karoo is very dry and there was no light anywhere near, so the sky was unbelievable, and thanks to my eye surgery, I could actually see everything until I fell asleep. Funny how my eyes were constantly searching for the Big Dipper…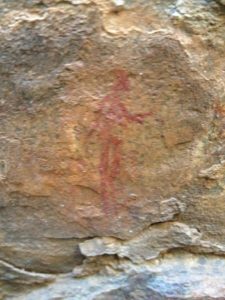 After a nice cup of coffee with Tom the next morning, I left the reserve and on my way to Calitzdorp I met a local cyclist, who had been bike touring in the US before. Really nice, kind soul, we chatted for a while and when we parted I felt so blessed again to meet all these wonderful people.
But the day was not over yet, and more surprises were awaiting. Calitzdorp is stunningly beautiful too. They produce wine but are also reknown for their port (even if officially they are not supposed to call it port…). I stopped at a cafe, had a huge meal, chatted with tourists, and then visited an art gallery. Calitzdorp is very artsy. The owner invited me for tea and I must have spent 2 hours there, I got a super interesting "lesson" about South African history, Johan also had some really interesting questions about what it is like to travel alone on a bike.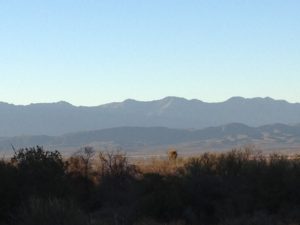 I left mid-afternoon to set up camp at the Calitzdorp train station, now transformed into a lovely campsite. Next to it is a wine tasting place, and even if I am not a big drinker, I decided to give it a try. That port was so nice, and with cheese cake… well, heavenly.
Now the sun is coming down, mosquitoes are coming out and it's time to carbo-load. Tomorrow, after 3 short, flat days, I will meet my good old friends the hills!