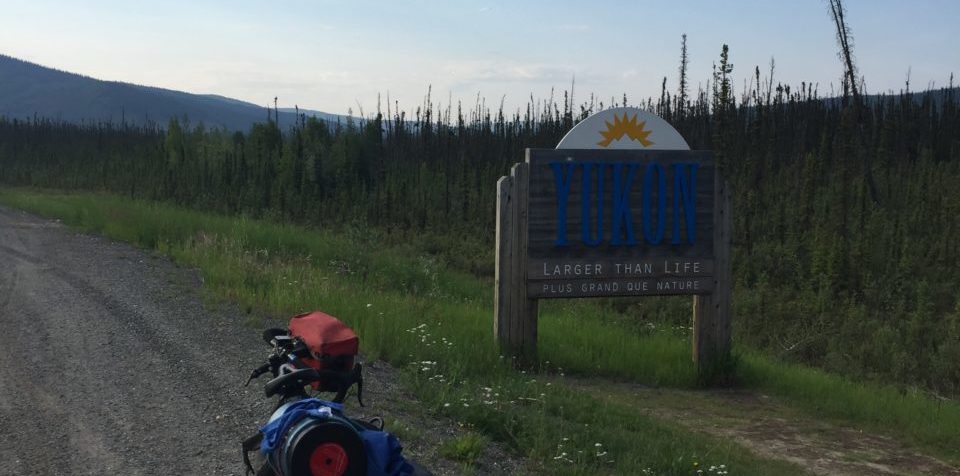 Today, I crossed my first border: I am now back in Canada!  And not just a little happy. Not that I didn't enjoy Alaska, all the opposite, but it is one more step into this journey.
The last few days were again great. The scenery just got better and better, and I was happy to see that my knees were OK with the hillier roads once I left Tok. Well, after the Dalton, the hills don't seem so big anymore, but the tailwind helped a lot too!
I was also lucky to ride under sunny skies and again the rain came only once my camp was set up. One day I camped in the middle of nowhere and had the afternoon and evening to rest in my tent.  I was getting bored so I used my iPod and sang out loud. If any bear was around, it certainly took off!  I also laughed out loud, thinking this is too funny, to be singing in the middle of nowhere. Probably the best place for me to sing.
On my last full day in Alaska, I rode to Deadman Lake Campground where I spent  part of the day, but eventually felt the urge to keep going.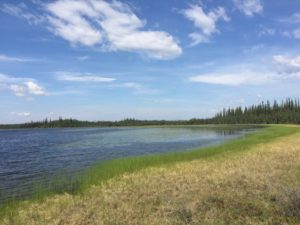 I rode a couple more hours and arrived at the Seaton recreation area. A few minutes later, a nice Swiss couple arrived and offered to cook salmon to share with me with a glass of white wine.  And so it was, that I had new friends to celebrate the end of the ride through Alaska.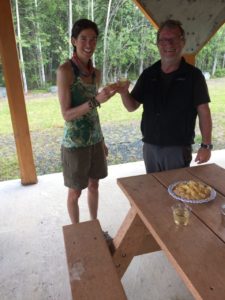 And early in the morning, I woke up very restless: I was excited to ride past the place where I had to quit last year. I got there too early to say hi to the nice ladies who had helped me last June, but it was a very exciting moment, and I crossed the US border with a huge smile.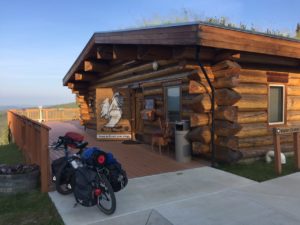 30 km later I arrived in Beaver Creek, the westernmost community in Canada and met a friend who not only bought me breakfast, she offered me a shower, to do laundry, etc.
How good can it get!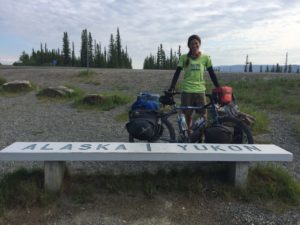 Now I am less than 500 km from Whitehorse, and I am so excited to be able to continue, one day at a time…