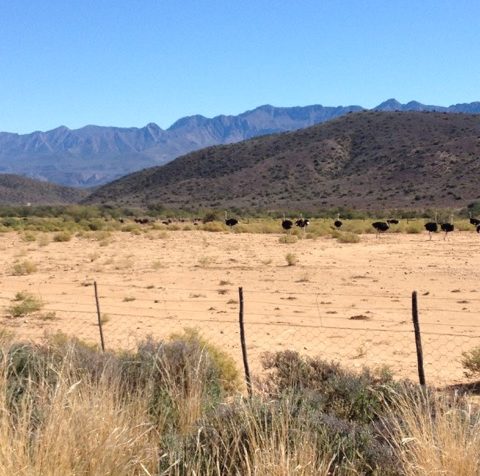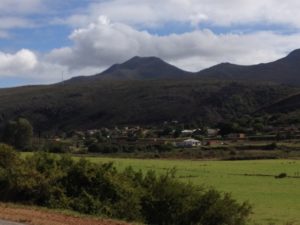 Three more days on the road. And three pretty long ones. My body is now asking for some rest. But every day is still full of amazing moments, chance meetings, great food and wonderful scenery. Today again, the landscape was stunning and I can't remember how many times I said "wow" out loud.
From Jeffrey's Bay, it was my longest day so far. I was happy to start riding on Route 62, it sounded almost mythical. There were few villages on the way, but I stopped in Kareedouw at a coffee shop where some friendly locals asked me if what I was doing was safe. I laughed and told them this was their country, they should know if it is safe or not!!! I had a huge piece of cheese cake, which gave me fuel for over 30 km.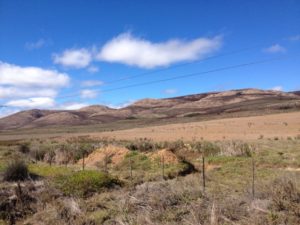 Then I reached Joubertina, and stayed at the very quiet Caravan Park. They gave me the key to one of the cottages so I could have a shower and use the toilet, and luckily nobody else was there that night so I could park my bike inside and use the cottage during the afternoon and evening.
From Joubertina, I knew there was a coffee shop about 20 km down the road. I was dreaming about a nice breakfast but when I arrived, it was still closed. I ate a couple of rusks (some kind of South African biscotti), which is actually great for tour cycling as it is light and packed with calories. I kept on riding, until magically a coffee shop appeared in the middle of nowhere. I ordered French toasts and when I went to pay for my second (well, third) breakfast, the owner saw that my T-shirt said "Klondike" and said: oh I have been to Whitehorse! Well, the world is small, she actually handled for a dog musher who ran the Quest in 2010… What are the odds, once again.
The road to Uniondale was beautiful and finished with a stunning pass, almost all downhill. I had a blast!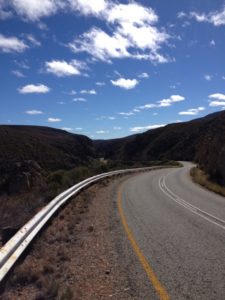 The French toasts I had earlier also kept me going for about 30 km. So when I arrived in Uniondale, I stopped at the first coffee shop. That was very lucky. Not only did I meet a lot of super friendly locals, when I paid for the food (which was delicious), the owner, who used to cycle as well, asked me where I was going, where I was staying, etc. He was very concerned that I was planning to stay at the Caravan Park, as it was being used by workers from outside Uniondale and wasn't safe. Even if the day was young, I had already pedaled enough for the day, and didn't really know what to do. Andre asked me to wait, and after discussing with his wife on the phone, I was kindly invited to stay in their cottage, next to their house.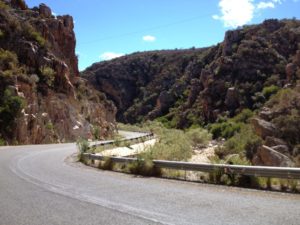 What a treat! I met his super friendly family, and had the rest of the day to relax in their beautiful cottage. I had a bed, a shower, a little kitchenette, and comfy chairs inside and outside. I was able to dry my tent, buy some food for the road and read. It was most enjoyable. Again, I was very touched by the kindness of strangers. Interestingly, Andre's ancestors were French! In the morning, we had coffee at his cafe and then I left, not without silently thanking South Africa and its people for all the goodness and kindness it keeps sending my way.
Route 62 is now drier, and more like a desert but it is absolutely beautiful. I stopped so many times to take photos. I saw ostriches who got really scared of me. Then I saw a dog in the distance and as I was preparing a plan in case it would chase me, I realized it was a baboon!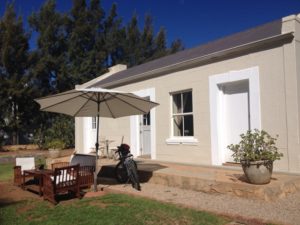 And finally I made it to De Rust. A small, beautiful village. Of course, I stopped at the first nice coffee shop and again, talked with the locals while I was enjoying one more delicious meal (yes, I know I always talk about food, but this is what cyclists do).
And tonight, I am the only guest at the De Rust Backpackers. I asked to camp, but the owner offered me to stay in a room instead, for the same price. I have no firm plan for tomorrow. Now I plan to enjoy that comfy bed!