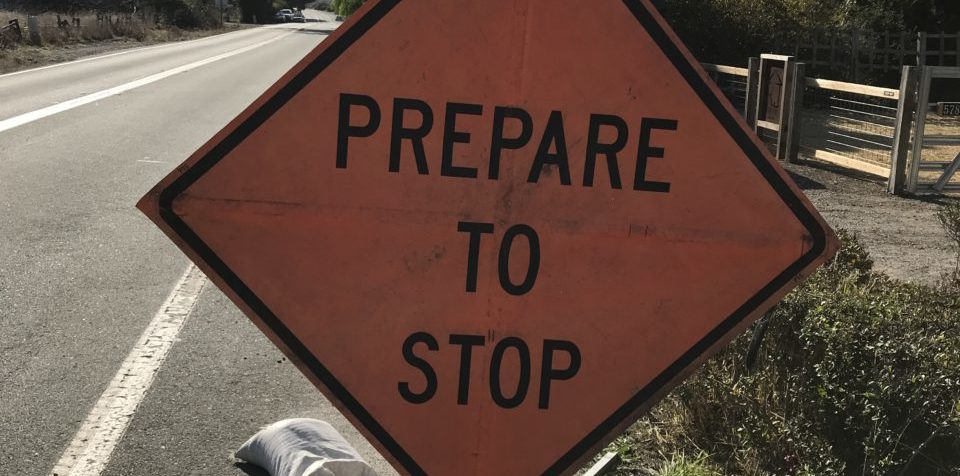 60 km on a bowl of dry cereal
60 km on a bowl of dry cereal
Some people asked if I ever have a difficult time. It's hard to believe but over the last 5 months, I don't think I ever had a bad day, I can only remember a few bad moments. It's been just a great adventure.
But somehow, about a week ago, something happened.
But first thing first, I'll go chronologically…
Last time I posted a blog, I was  in Mendocino, a cute little village that had a café with a generator. Because the power was out.  A few people had asked me if I would be affected or would have to change my route because of the forest fires, and I always said no, partly because to me forest fires are a summery thing, and also because I suffer from that "it's-not-going-to-happen-to-me" syndrome.
Well, I was wrong.
Leaving Mendocino, it took me a while to even find a toilet, as most public facilites were closed. There was no power in several districts, due to fires.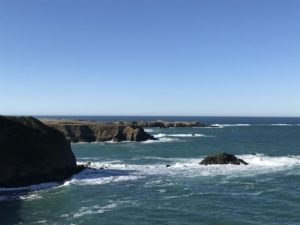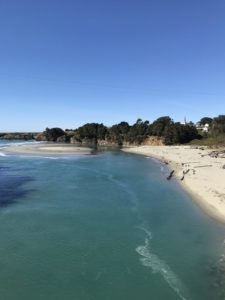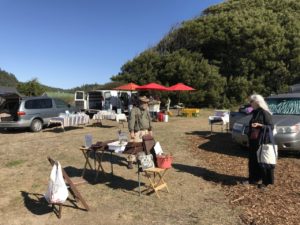 Luckily, that night I was hosted by Judy and her family. They had water, and access to a generator from time to time, so I was safe, well fed and looked after. But without power, and therefore no internet, it was hard to get information about the situation. We eventually found out that major areas just south of where I was almost all the way to San Francisco were being evacuated, most public places were shut down, and it would be hard to find water, food and places to stay, not to mention the smoke I would breathe if I kept going.
So I stayed at Judy's, 4 nights! These are the kinds of people you want to be with when things like that happen.  Extremely kind, welcoming, generous folks, and a very entertaining family.  I had a great time with them, felt totally adopted by the clan. They took great care of me as we settled into a kind of daily routine. As inconvenient as it was to be "stuck", it was also a great way to learn more about life in rural California, meet the really nice neighbours, and rest my knees! Compared to people who were loosing their homes to the fires or had to be evacuated, I considered that I was doing pretty good.
The power came back 5 days later, and I was happy to get back on my bike. After a short day, I ended up in a really nice campground where I reconnected with Mark, who I had met in Montana about 2 months ago, and 3 other cyclists, 2 of whom I had met already days before.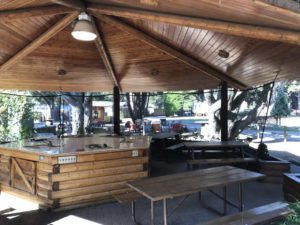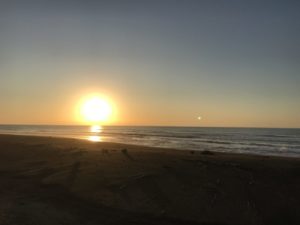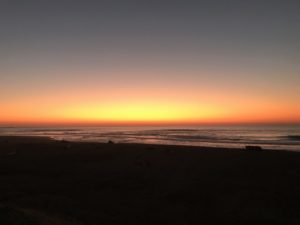 But that night, I couldn't sleep.  My belly was really not feeling right. I eventually had to carry my mattress and sleeping bag into the restroom, and spent the night shivering on the floor, until eventually my ramen noodles were officially rejected. It was not a glorious moment.
Feeling not so great the next day, I considered staying at that nice campsite another day, but the nights have been very cold recently, and all I want is to get further south. This is how I ended up riding a sluggish 60 km on a handful of Mini-Wheats, the only thing that I could eat that day!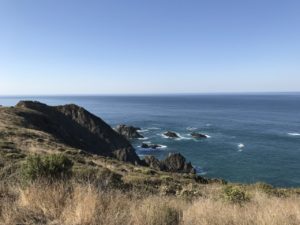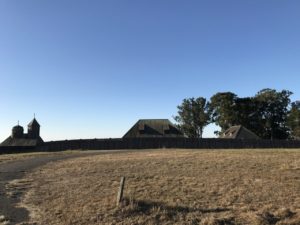 That night I stayed in a State Park campground, where 3 of my "cyclist friends" played the guitar and sang by a campfire. I just pitched my tent and slept 13 hours.
The next day, I felt better and finally ran into the family from Quebec who have been travelling since July.  4 kids, age 9 to 15.  Super nice folks, impressively strong, it was a delight to finally meet them and ride with them for a while. I wish I could have camped with them that night, but they had just started and I had been riding for a few hours already, so we said goodbye and I rested in Bodega Bay for some time, weighing my options.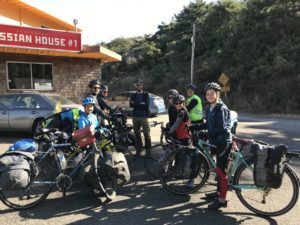 Mark and Chris caught up to me and decided to stay in Bodega for the night. I realized that I still had energy to keep on going. But there was no campground for a long way. All I knew is there was an orchard about 25 km further, where I thought I might be able to camp.
Luckily, Jan and Lou agreed to let me pitch my tent in their yard. And not only that, Jan gave me an apple cider, brought me a nice bowl of pumpkin soup and a piece of bread and told me to eat as many apples as I wanted. When I brought the empty bowl back to the house, she traded it for a piece of apple pie!
I fell asleep listening to the owls and coyotes.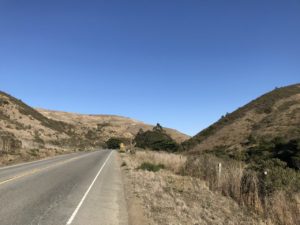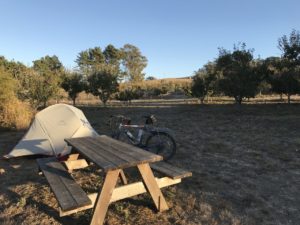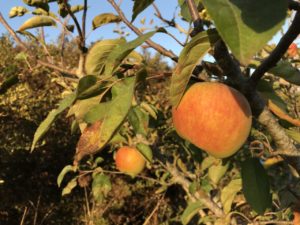 The morning was chilly, below freezing again, but Jan let me in, toasted some bread that she had made and gave me a cup of coffee. We had a nice chat. I left with 2 more pieces of pie…
It was a great day of riding. I was actually glad to leave the coast for a while and ride some flat sections. Because I was getting tired of the Californian coast. Up and down, short but steep hills.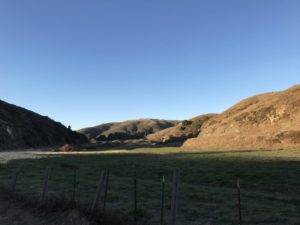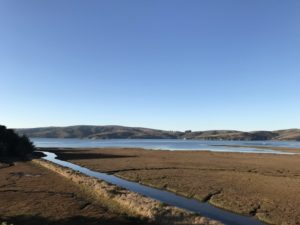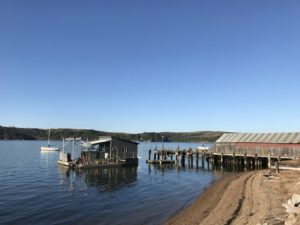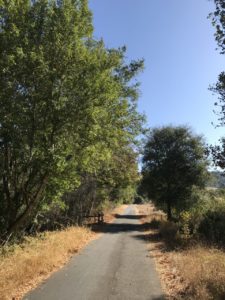 What?  Getting tired of the coast?  Why is everybody raving about it and not me?
This is when it really hit me. I have been on the road for 5 months. I have really been on a high for 5 months.  I loved almost every minute of it: the Dalton Highway, the Alaska Highway, the Stewart-Cassiar with Rick and Deb, the Yellowhead, the Icefields Parkway, a short part of the Great Divide Trail, Montana, riding with Rose and Will in Idaho and Oregon, Bend, Portland, the Oregon Coast… I met countless nice people, saw miles and miles of incredibly beautiful places…
But over the last few days I have been grumpy at times, complaining about the rough road surface, the hills, the cold nights. I have less patience to listen to people's stories, which is usually one of the highlights of my travels. And the weirdest thing is that I seem to suffered from Alzheimer. I really have to make an effort to remember where I slept the night before, I forget the name of villages, of people I met, and when the French-Canadian family talked about the 2 really big hills before Fort Bragg, it took me at least 5 or 10 minutes to remember them, although they were definitely memorable…
My memory is full. As in: I can't add anything to it. I still enjoy riding, but nothing registers anymore.
Maybe a few days off will be enough to make space and carry on, as usual. But I have been thinking that it may also be time to go home for a while. Rest my knees, my stomach and my soul. And start over again in a few months with renewed energy and enthusiasm.
I don't know.
This feeling took me totally off guard. It's so strange, like there is no good reason to stop. I still enjoy riding. I am in shape. I am excited about Mexico. Why would I stop? I am not unhappy.
But I am an introvert… And more and more I crave quiet time alone, time to process all the experiences, encounters, sights and thoughts. And this is almost impossible to find on the road.
I am just on the north side of the Golden Gate Bridge now. I plan to spend a few days in San Francisco. And decide what to do. I may go home from there. Or maybe I will finish riding the coast first, and close the North American chapter. Maybe I will keep going. Time will tell.
Until then, I have a big city with palm trees to explore!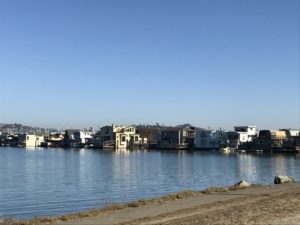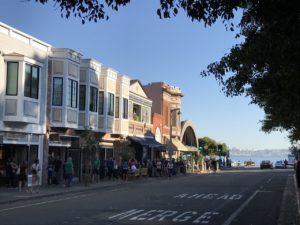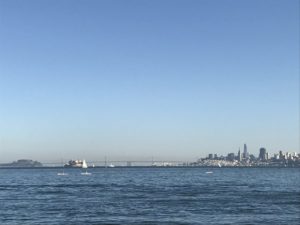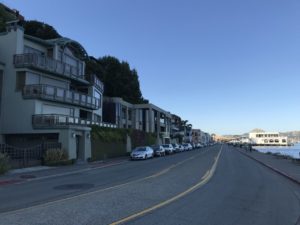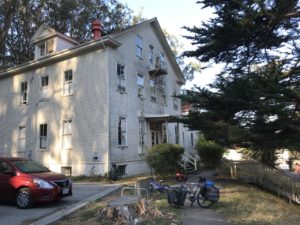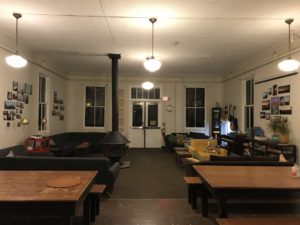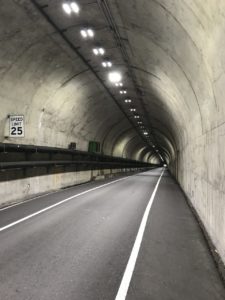 Today's final words: