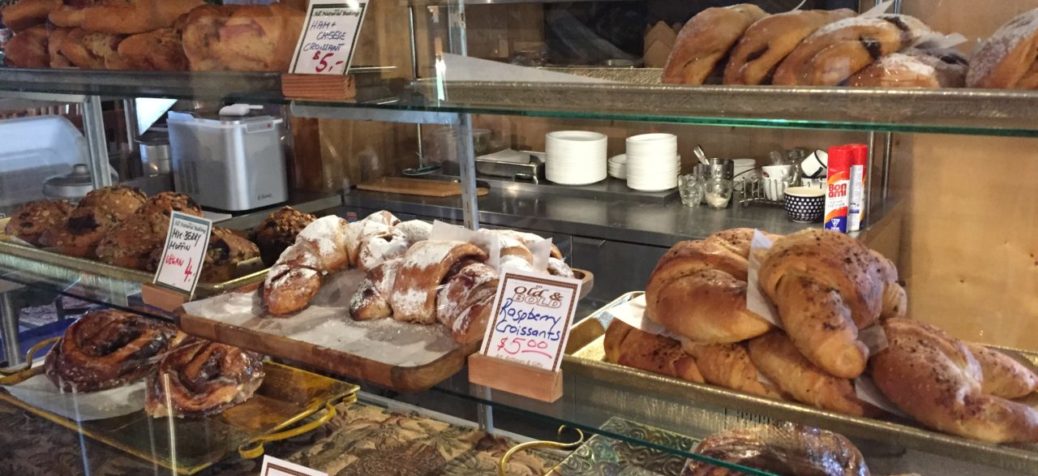 BC's best kept secret
BC's best kept secret
After many weeks of riding in fairly remote places, the last few days have been quite different.  I now ride from one town to another, traveling lighter as I don't need to carry as much food and water.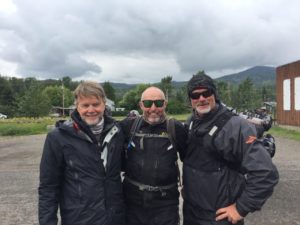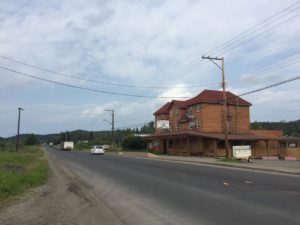 I stayed an extra night in Smithers to meet a friend of friend, Francoi, who lives in Driftwood, just north of town.  It was a good climb to get there, but it was worth it.  Nice road, and nice company, not to mention a comfortable bed, shower and good meal!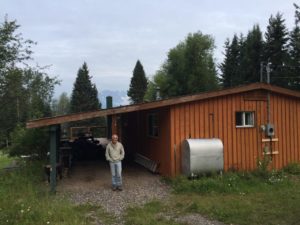 Francoi also contacted a friend who knew a friend who agreed to host me 2 days later. I left Driftwood early in the morning, rode on a beautiful road, saw my daily black bear, and arrived midday in Houston, a small town with a very friendly coffee shop and just as friendly RV park.  The forecast was for heavy rain and that campground had little shelters to pitch my tent under, so it was perfect.  It felt weird to pay to camp somewhere after weeks of free wild camping, but I could have a hot shower too, so it felt good.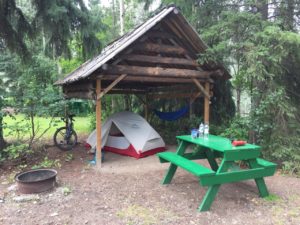 From Houston, I rode to Burns Lake. As Francoi said, there is nothing exceptional about the scenery between Smithers and Prince George, so it's more about the people I meet on the way. But I was also pleasantly surprised when I arrived in Burns Lake.  I had absolutely no expectations about this town, but before long, I fell in love with the place. Lovely cafes, outdoorsy people, artists, great trails, many lakes, and just a good vibe. Must be BC's best kept secret.
One of the highlights was my host, Karen. This friend of the parents of a friend of a friend of a friend (I am not even kidding) greeted me in town, picked up my luggage so I could travel lighter to her place, and gave me her address to meet her there later.
I spend a bit of time in town, visited some of the cafes and was surprised to meet Matthias and Jonathan, who were the owners of the Bakerei Coffee Shop in Whitehorse (now called Baked) and now have a coffee shop in Burns Lake. We had a great chat and they too agreed that Burns Lake is a very special place, similar to Whitehorse 20 years ago.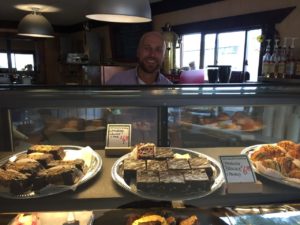 After I indulged in town, I climbed the big hill to Karen's house. A real Hobbit House, her place is funky and absolutely beautiful. No wonder Hobbits don't like to travel: you just get too comfy in those places. Karen was super welcoming, and I had the best of time with her. She is a youthful, positive, artsy, open-minded and kind person, and I smiled thinking that all these qualities remind me of my grand-mother, whom I loved so dearly.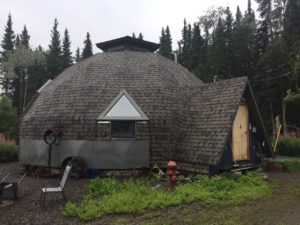 Karen also had 2 visitors that day: Erik, who is a lighthouse keeper (how cool is that!) who gets 7 months off per year and takes advantage of that freedom to do cool adventures around the world, and Trevor, a very nice guy who lives in Karen's cabin.  Both were super interesting people to chat with, and the whole  day went by so fast, I couldn't believe it. I left Burns Lake the next day convinced that this will not be the last time I visit Burns Lake.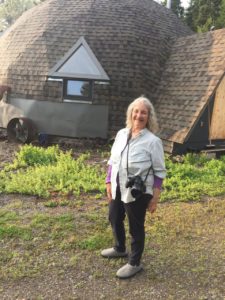 From there, it was a long ride to Fraser Lake where Karen had found a place for me to stay at Janet and Rick's place, where I stayed in their big camper. Funny how all those places are always up a big hill! They live on the other side of Fraser Lake, and I expected a nice easy ride along a flat road. Wrong. It was an extra 20 km after I left the highway, 12 of those on gravel, and up and down some very steep hills. Good thing I didn't know it would be that hard, but like childbirth (I suppose), once I reached their place, it was all forgotten and I enjoyed their company, and amazing fresh food from the garden. Karen is an awesome cook and Rick a great singer, so I had a wonderful evening.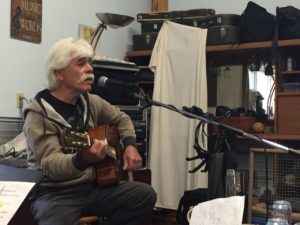 Very likely, all those encounters would not have been possible if I had been traveling in a vehicle.  Biking requires a bit more effort but it's really worth it. A real privilege to share the life of so many interesting people.