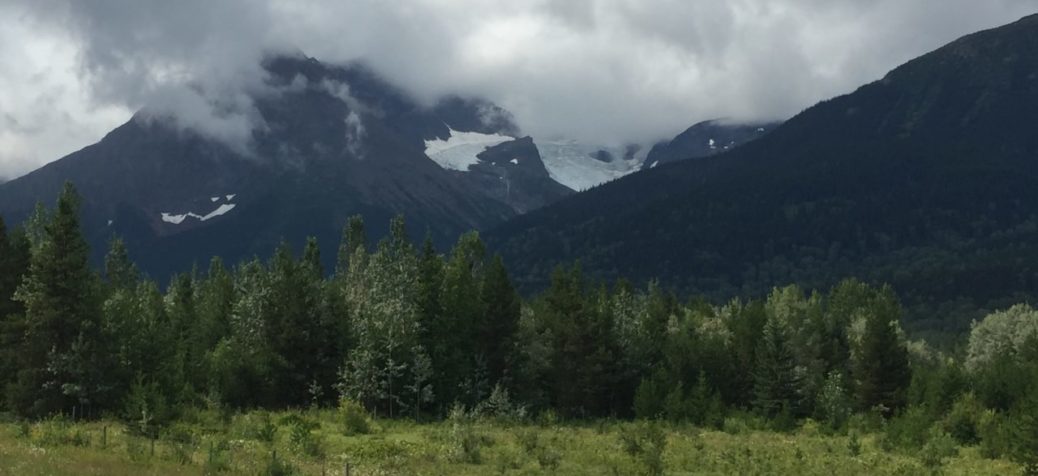 First adventures on the Yellowhead
First adventures on the Yellowhead
It didn't take long to live a few adventures as I started cycling alone again. After the Cassiar Hwy, the Yellowhead seemed much busier and less remote and I was blessed with a nice tailwind to start. The signs on the road now showed a new destination to aim for: Prince George.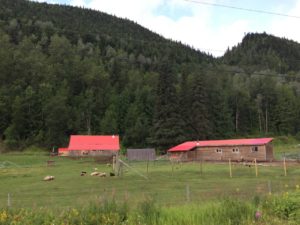 My first day was pretty short as I had planned to stop in a very small hamlet called Carnaby, where a kind Warmshowers host offered me to stay at his place even if he wasn't around. He recommended a small road that is blocked to vehicles but perfect for cycling to reach his place, instead of staying on the highway.
I followed his advice and started riding down the road, which was lovely. But it also looked like bear country and sure enough, after 3 km, I saw a big black bear ahead of me. He didn't see me at first and I was at a comfortable distance away. I waited for a while, he disappeared in the bush but soon was back on the road.  I waited again but the same thing happened over and over again. At some point he looked at me, but he wasn't interested, he just kept walking away very slowly, up the hill ahead. After a while I decided that it was safer to turn around, and I backtracked until I reached the highway. So much for the scenic route!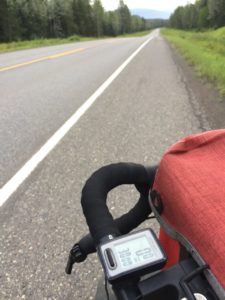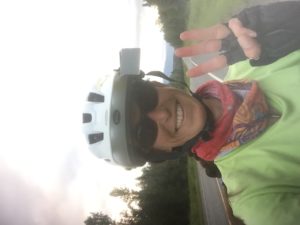 After a night in Carnaby, I had a longer day to Smithers but it was beautiful, lots of nice farms along the way, and big mountains with glaciers.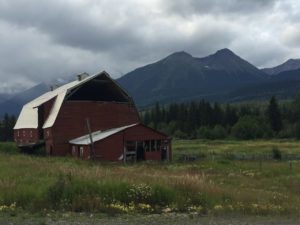 I took a good break at the Wetsit community to check the nice canyon where First nation people harvest salmon. It is very impressive to think that salmon can get up that canyon, and I saw a few that were trying, but the highlight was definitely to visit the locals in their smoke house.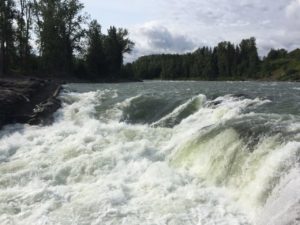 They were very excited to hear about my trip, and they gave me some dried salmon and then cooked two salmon bellies for me. I ate one right away and kept the other one for later, knowing I wouldn't be camping with a nice piece of salmon in my luggage. I was going to stay in a real house that night, with no bears around.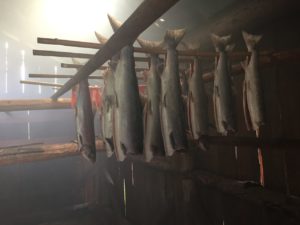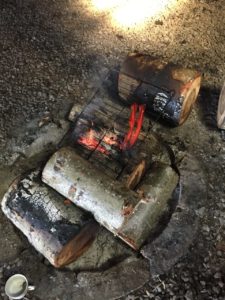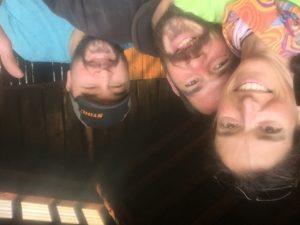 And so it was that a little later, I arrived in beautiful Smithers, had my first real shower in almost 3 weeks, did laundry, sat in a lazy boy chair with my feet up to read and eventually fell asleep, and later walked into town to explore the cafes. It felt like a holiday within a holiday.