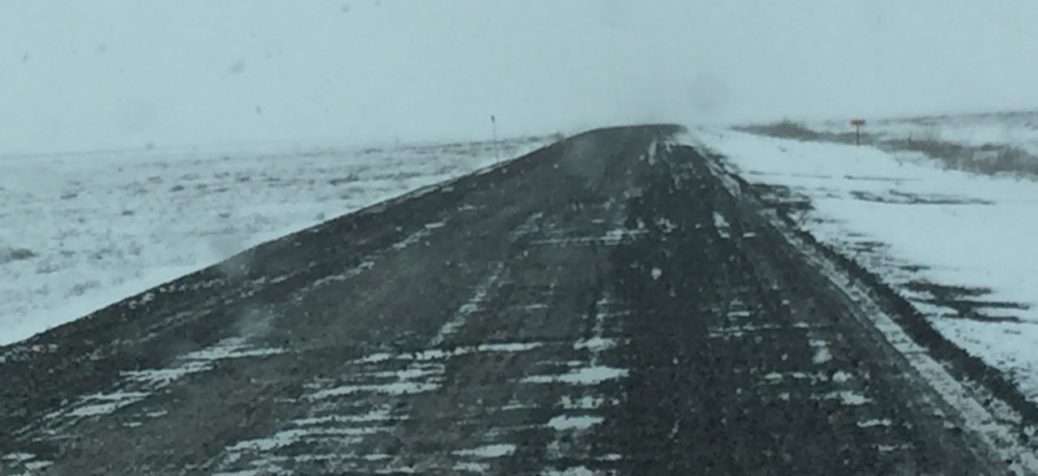 False start on the Dalton
False start on the Dalton
Well, I guess I can now say that I have been to Prudhoe Bay with my bike… but not on my bike!!!
I haven't started riding yet but it's already been an adventure.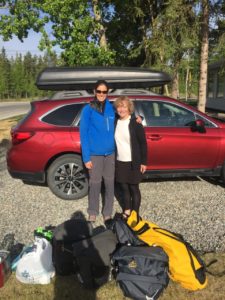 I left Whitehorse Thursday morning, after a nice going away supper with friends. Steve and I drove to Fairbanks, where we stayed at Sven's Basecamp, a lovely haven in the middle of the industrial area.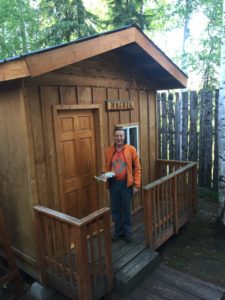 The weather forecast for Prudhoe Bay had been deteriorating over the last few days, but since things can change really fast in the north, I decided to give it a try anyway and we started driving up the Dalton Friday morning.
It was a beautiful drive, but I could see this would be a BIG challenge on a bicycle. Nothing but big hills, often long and always steep!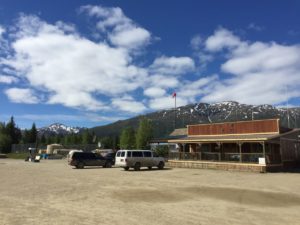 We made it to Coldfoot, halfway between Deadhorse and Fairbanks. Really friendly truck stop/cafe where we could pitch our tents for free.
We spent time at the interesting visitor centre where we could get a weather update. It wasn't good news. It didn't make sense to go to Deadhorse and wait in a cold, expensive place, so Steve drove back to Whitehorse and I stayed in Coldfoot where I was hoping to find a ride when the weather would improve.
There was a storm brewing, with snow and 50 mile per hour winds forecasted at the pass but the storm was supposed to be over by Monday afternoon, so I was hoping to drive up on Sunday or Monday and be ready to start riding once the storm was over.
I spent the whole day Saturday in Coldfoot chatting and drinking coffee with friendly motorcyclists, and met 3 other cyclists who were riding north to Prudhoe. The day went by really fast but I hadn't found a ride yet.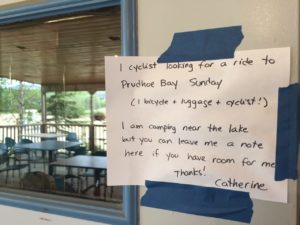 Early Sunday morning I packed all my stuff, parked my bike in front of the cafe where I had put a sign asking for a ride, and waited.
Mid-afternoon, a woman looked at me with a big smile on her face and said: "Are you Catherine?". She had obviously seen my sign and sure enough she offered to give me a ride. We somehow managed to get my bike and gear in the cab, and within a few minutes, I was on my way to Prudhoe Bay.
I always wanted to see what it's like to be a truck driver, especially in those remote places and I had an absolutely fantastic time with Joy. You better be tough to drive a 110,000 lbs tanker on the Dalton Highway, but Joy is as kind and fun as she is tough, and we spent hours telling each other stories, especially dog mushing stories since we both ran sled dogs and knew several of the same people.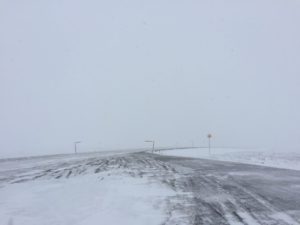 From summery Coldfoot to the Atigun Pass, it was windy and the road was mostly dry. But once at the pass, it was like entering a diffferent world. It was WINTER.
It was really interesting to see how the truck drivers were calling each other on the radio and talking about different landmarks, road conditions, whether they should chain up or not… They also kept an eye on crazy cyclists and motorcyclists. They are fantastic people.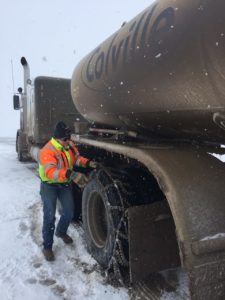 Visibility at the pass and further was very low, it was snowing and blowing, we had to stop to put chains on, which was all exciting for me to see. We saw one solo cyclist and 2 other guys traveling together and I was glad I wasn't one of them.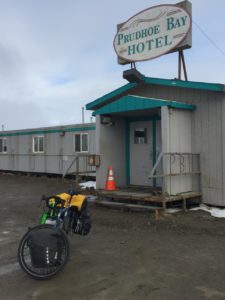 We arrived in Prudhoe late at night. Like most cyclists, I had all the good intentions to camp for free somewhere in Deadhorse, but also like most cyclists, once I got there, I just went to the Prudhoe Bay Hotel where you get a comfortable room, a hot shower and all the food you can dream of for $110 US.
Before I fell asleep, I looked at the forecast and realized that there was no way I would be able to ride for another few days, and not wanting to spend my monthly budget within a few days in Prudhoe, I accepted Joy's offer to drive back to Fairbanks with her the next day.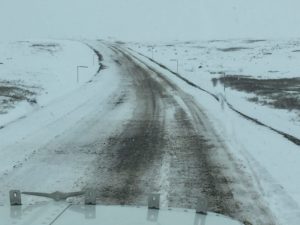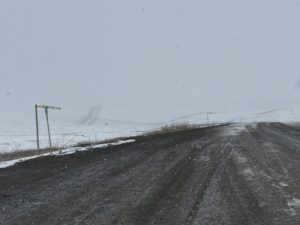 She picked me up in the morning. The first 50 miles (which are supposed to be the roughest for a bicycle on the Dalton) actually looked nicer than anything we had seen the day before and I was wondering if I had just chickened out.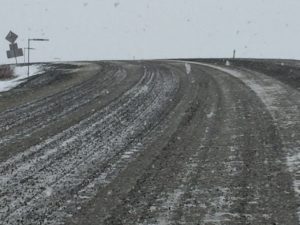 But it didn't take long before I was the happiest (non-riding) cyclist in the area. The road was even worse than the day before, a mix of rough gravel, calcium, mud, ice and snow, not to mention the potholes and washboard, more snow coming down and very limited visibility in some areas.
We heard that some of the cyclists we'd seen the day before got a ride with truckers, we met 2 motorcyclists that were really struggling to ride their bikes and they were not even in the icy section yet. We found out later that one motorcyclist crashed and damaged his bike. Only 2 cyclists from Alberta looked like they were still having some fun out there, but they had 3 inch tires, lots of winter gear and still a loooong way to go!
I was somewhat disappointed that I couldn't ride the Dalton, but there is no doubt that it would have been a real suffer fest, and even if I had survived it, I am not sure that my bike would have. The trucks were covered with frozen salty and silty mud and I can just imagine what my bike and gear would have looked like. I was warm and totally enjoying the privilege of spending a day with the Dalton Road truck driver community!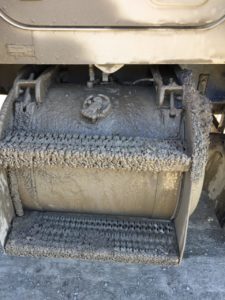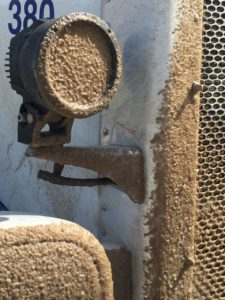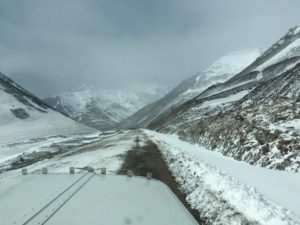 Over the pass the weather instantly turned into a perfect day again, the scenery was amazing, and it was hard to imagine that 5 minutes before we were in such impossible conditions.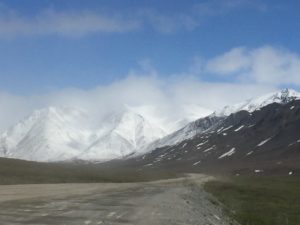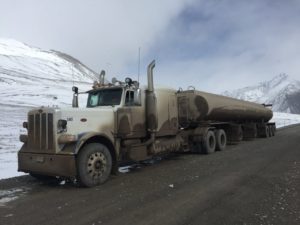 We stopped for coffee at Coldfoot where I picked up the food and fuel I had stashed there, and we drove the rest of the way to Fairbanks. I was surprised to see fresh snow just a few miles out of Fairbanks.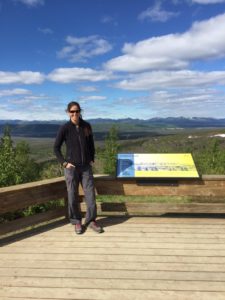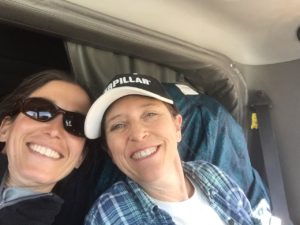 Around 10:30 pm, Joy dropped me off in town. I put all my gear and the insane amount of food I had expected to eat over the 16 days that I had planned to ride the Dalton on my bike, and with a big smile on my face, I rode back to Sven's, where I pitched my tent in the cold night.
I am now trying to stay warm while recovering from over 20 hours of sitting in a truck on a rough road, still struggling to shake off the cold that I got in Whitehorse and forever wondering how my knees will feel once I start riding… Nothing has gone according to plan so far, but this is the sign of a true adventure!