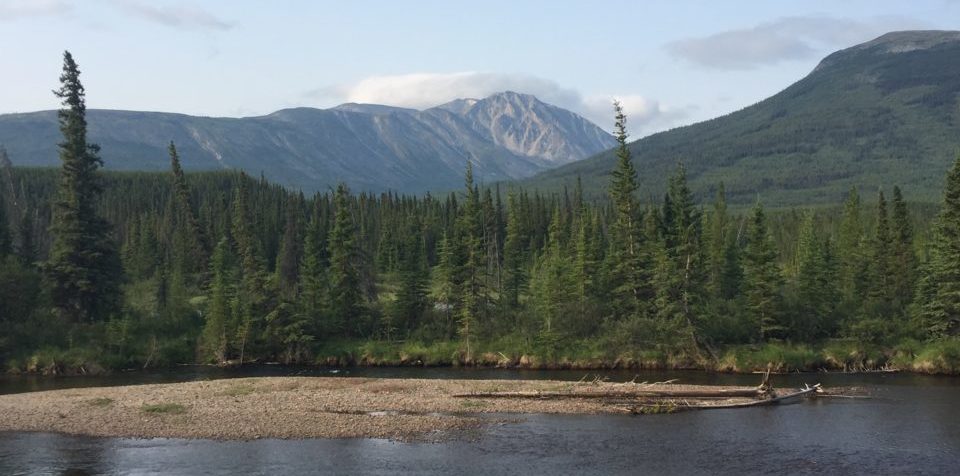 More socializing than pedaling!
More socializing than pedaling!
I am now at the Junction between the Alaska Hwy and the Stewart Cassiar Hwy, after almost a week of riding.  Not many kilometers, but apparently that's all I can manage, but I can't complain, I had such a great time and met so many nice people. Not to mention the incredible weather, but it looks like I will finally have to get my rain gear out.
Leaving Johnson's Crossing, I was on my way to Teslin where an old friend that I hadn't seen in about 15 years was waiting for me.  I almost didn't make it as I kept stopping to chat with friends who were driving south and handed me baked goods that I could not refuse! It was awesome!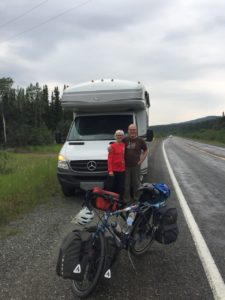 But eventually I arrived in Teslin where I spent a really nice afternoon and evening with Chris who cooked delicious and colourful (haaaaaa, fresh fruits!) food, gave me the grand tour of the village (including two awesome little museums) and we even watched the Tour de France! So nice to catch up! Chris rode for a while with me the next morning, and took a picture when I reached the 2000 km mark since Prudhoe Bay.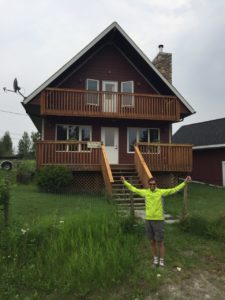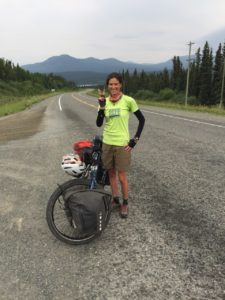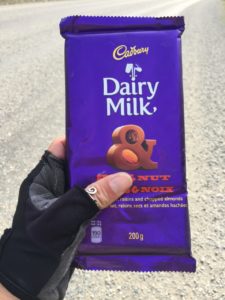 During the day I met more really nice people again, some serious RVers who traveled all over the world, and others. That night I had to get used to sleeping in my tent again, and I wild camped near Smart River, which was pretty nice too.
The next day was amazing (yeah, again!). I stopped at a rest area to make coffee, and as I was sitting on the ground boiling water on my camp stove, 2 motorcyclists stopped and started chatting with me.  Super nice folks from the US, once again motorcyclists are just like family, and I had a great time talking to them.  John told me a bad joke that made me laugh a few times that day, and both of them were super generous. I had no words to express my gratitude. It is so encouraging to meet people like that on the road. And later in the day I ran into a nice couple from Washington who gave me their address in case I would be in their area eventually.  Really, it's amazing to meet so many good people. I leave these people and feel like I have wings.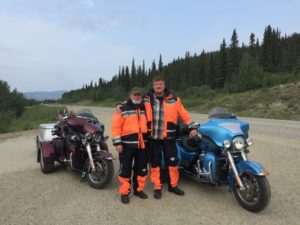 One night I stayed at the lovely Rancheria Falls.  Friends stopped by as they knew I would likely camped there.  It was awesome to see them and we walked to the falls together. Rob gave me more food before he left!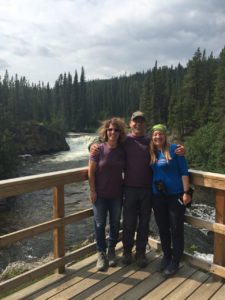 A few minutes later, as I was chatting with James, who was traveling from Alberta, 3 tour cyclists arrived.  I was suprised to see Jeff, who I had met twice already, but such is life on the road, sooner or later we meet again! We had a lovely evening after we all washed in the river. James made coffee for us in the morning.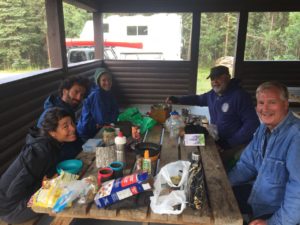 Yesterday was a short day due to a very nice tailwind but it was a perfect day to jump in yet another river (Big Creek) and do some laundry. And today was even shorter, due to bad knees!! But it's nice to have internet to send  an update and get news from friends and family.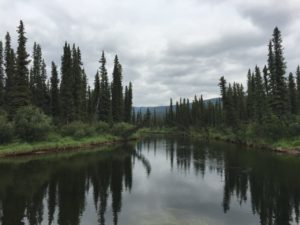 This afternoon I will start riding the Stewart-Cassiar. Another milestone. I realize as I am typing that I will leave the Yukon.  Hello BC!