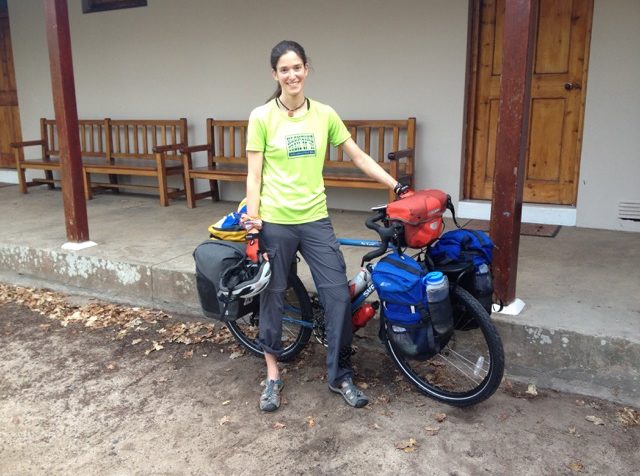 A small world full of guardian angels
A small world full of guardian angels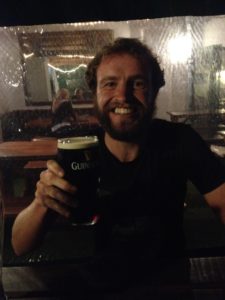 OK, I have to admit I am really falling in love with this part of the world. How could I not? I feel like everybody I meet is watching over me, making sure I am safe and happy. It is incredible.
Last night I had a super fun evening with William who is cycling around the world. There was no shortage of things to talk about and some of his stories are just incredible. My adventure seems very small compared to his.
This morning John was there to wish me well. I had a brief moment of panic when I tried to put all 4 panniers on my bike: it didn't work at first. This is the first time I put front panniers on this bike. Things you should always try at home first. But eventually it worked and I could leave.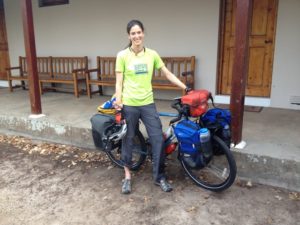 The first bit was hard. Not so much physically, but I had to convince myself that I could do this. It seemed hard but luckily it was downhill for a while so it helped me get through the first stretch and once I was warmed up, I felt good and really started to enjoy myself.
20 km into the ride, a car pulled over in front of me. Hum… It took me a second to realize that it was John, my host in Noordhoek that was on his way to work and he stopped to see how things were going. I tell you, I have several guardians angels here.
The traffic was at times heavy but people were really nice. It was tricky at times with the wind and the trucks, but later the road widened, there was a good shoulder to ride on and life was just good.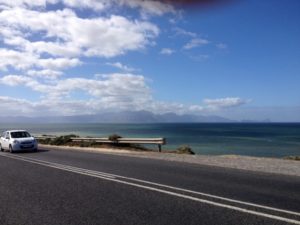 As I got closer to Strand, the wind just went wild. My energy level was a bit lower too: needed to refuel. Then another car pulled over. Hum… Another surprise! It was Peter and Colleen, my future Warmshowers hosts. They were on their way back home (in Knysna) and when they saw a woman cycling alone with 4 panniers, they figured it had to be me… Super nice people too, it's incredible how small the world is and it"s nice to cycle towards Knysna knowing people are waiting for me there too!
I had another hour of cycling to do before I reached Strand. Amazing beach, and amazing people again. Sorry to repeat myself but this is just the way it is. Everything really is amazing. These people cycled a lot too and in very interesting places, like India and Sri Lanka. Obviously I was interesting in finding out about how they enjoyed it! The room where I am staying in so beautiful, I actually felt embarrassed coming to such a nice place being so dirty. I had a shower with a real towel, simple pleasures!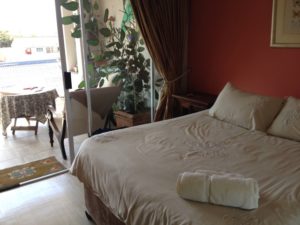 Now I have the rest of the day to relax, walk around and get ready for day 2!