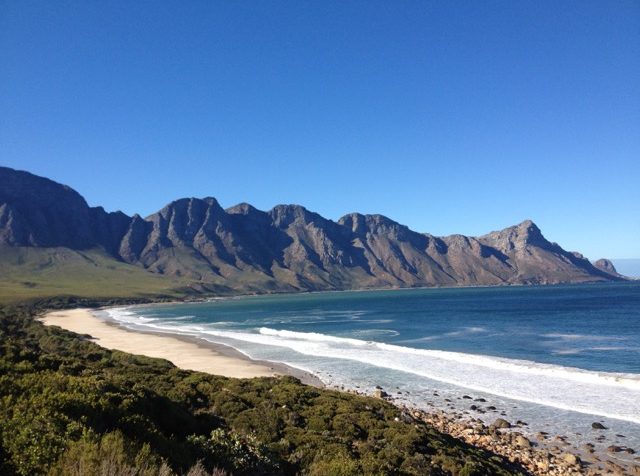 Drinking tea in Gansbaii
Drinking tea in Gansbaii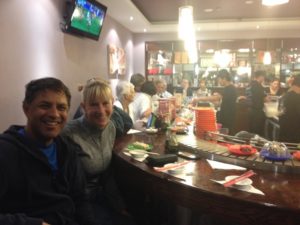 I am now sitting outside, looking at and listening to the ocean. It is 5 pm, it's warm, the wind is light and I am drinking milk tea in the sun, wondering if I am dreaming or if this is real. It doesn't matter anyway, it's just great.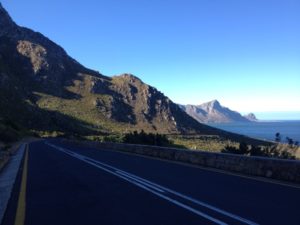 Last time I wrote I had just arrived in Strand. This is where I found my first used book store in SA (for those who don't know me, outside of eating, visiting used book stores is one of my favourite thing to do when I travel). I was of course beside myself. Too bad I can't buy any books at the moment. Don"t feel like taking them with me. My Warmshowers hosts took me out for supper in a sushi shop: very cool, here they have sushi carrousels, so sushi are going around the table and you just grab whatever you want. And no extra charge for hungry cyclists. Loved it. Gatu and Rene made me feel so much at home. The kindness of strangers (and of friends, of course) is heart-warming. Rene even gave me a belt because I forgot mine and was loosing my pants. Rene got up to make me a fantastic coffee (I haven't had a bad one here yet!) to give me the strength to battle the winds. Because it was windy. Very.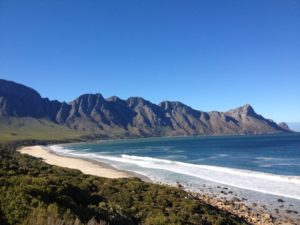 The road from Strand to Kleinmond was supposed to be on par with the Chapman Peak Rd that I rode a few days ago. I had a hard time believing it, but truly, it was (again) stunning. You feel like you are dancing with the sea (well, maybe it"s the wind that made me dance). There were some hills, and on one of them a very nice cyclist decided to ride ahead of me to help me block the wind. She didn"t intend to go up that hill, but when she saw me, she decided to go up to help me out. How nice is that! At the top, she wished me luck and turned around. Waw.
I also met other cyclists on the road, one couple from Switzerland traveling all over the world, and local cyclists as well that have been super friendly.
From Strand, I cycled to Kleinmond, which wasn't all that long, but with the wind, I was happy to stop there. I wanted to go see the penguins but finally decided to keep going because I was getting tired.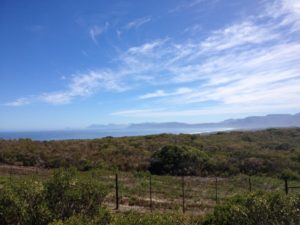 I found a very nice campsite, next to the ocean. The best part was the trees: I immediately decided to justify carrying my hammock: I installed the hammock and relaxed for a good part of the afternoon, and finally decided not to bother with the tent: I just spent the night in the hammock. Believe it or not, my Canadian friends: I didn't need my mosquito net. I didn't hear or see a single fly or mosquito. Now, that is something.
People in the campsite were super friendly. I had several asking me where I was coming from and going. Even the young party crowd waved when I walked by to go to the toilet/shower. Shower? Yes! They even have showers. And I needed one.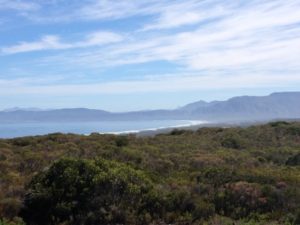 This morning, I had a hard time leaving my hammock. The wind was calm, and I had another fantastic ride. The temperature is ideal, not too old and not cold. I rode to Hermanus, a beautiful village with again, friendly people, then to Stanford, another scenic village that has vineyards and even honey (which brought back good memories of Greece). Really beautiful. Good thing I didn't know that as you leave Stanford, there is a long hill! But once on top (guess what I will say…), the view was fantastic. And then, those prepaid miles paidd off: it was a lovely downhill to Gansbaai where I am staying tonight. I arrived early, and there was a big family of friendly people leaving the hostel, we took pictures of each other, and shortly after a German cyclist who has been on the road for 2 years arrived. He is going the other way and told me where to go tomorrow to avoid some apparently bad gravel road. So far there is nobody else here tonight, but maybe they shut down the place after two stinky cyclists arrived.