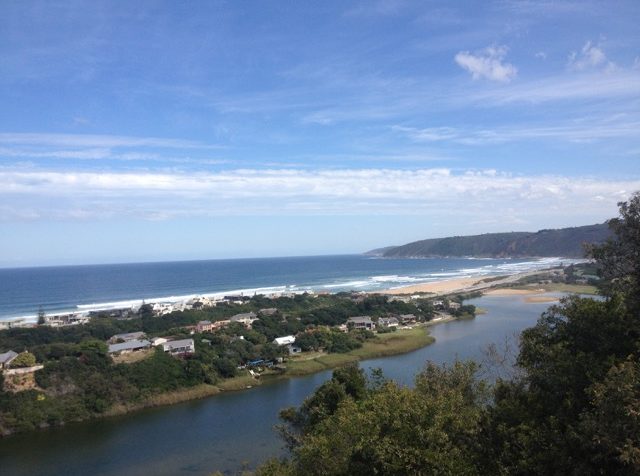 In and out of Wilderness
In and out of Wilderness
How could I not like a place called Wilderness! This is a really nice village on the coast, part of the Garden Route. I got here a few days ago, after another day on the road from Mossel Bay. It was another nice day, with a variety of landscape, one really long hill where a local guy at the top called me "my love", and more farmlands. Thinking I was going to save time and effort, I went straight down the main road to Wilderness, but I realized today that this was a mistake. There was a much, much nicer road, which I cycled today.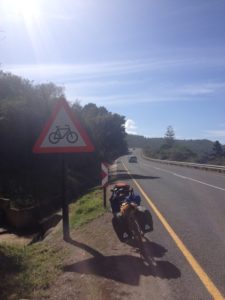 But I was happy to get to Wilderness, which reminds me of Banff but with the ocean instead of the mountains! I was happy to have the option to sleep in my tent or hammock again. I found a really nice quiet area that now feels like home (it will be my third night!).
The following day, I climbed up again, but without luggage to visit some Warmshowers people who live on a beautiful farm. The road to get there was so beautiful, with lots of nice houses and tons of flowers. Then I remembered I was on the Garden Route… Makes total sense. The Warmshowers people were very nice and offered me to stay with them, but I was already all organized at the Backpackers, so I had to decline. But they are hosting another cyclist (well, they basically adopted him in the family…). William is from Germany and has been cycling all over the place. He was going kayaking in the afternoon, so I joined him and we paddled to a nice waterfalls and up a small river. Very cool.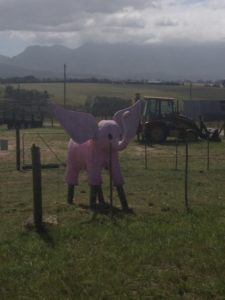 The next day, my previous Warmshowers host Yvonne picked me up in Wilderness and drove me all the way back to Heidelberg where I met my friend Scott. We then drove to a beautiful small nature reserve where we did some hiking for the next 2 days. I saw my first South African baboons and one of them managed to steal a bag of chips from our cabin. They are pretty bold but to me it still feels exotic to see them. This morning, Scott drove me all the way back to George so I could resume my journey. I felt very privileged to have spent some time with him.
As I tried to put my front wheel back on, I realized that something was wrong. The wheel was rubbing against the fork. I couldn't understand why, and I had no other choice but to go to a bike shop. There, the really kind and colourful owner told me that because I had lost a bolt on my front rack (I knew that but had no spare…), the weight of my panniers bent the fork. Luckily, he was able to fix it, and he also did a really good job to my chain. He then offered to top up my water bottles, gave me a course on how to pedal more efficiently, gave me some bicycle magazines to read, and was at the door watching me and waving goodbye like a father would do when I left. Again, the kindness of South Africans. I had a huge smile on my face for the next few km.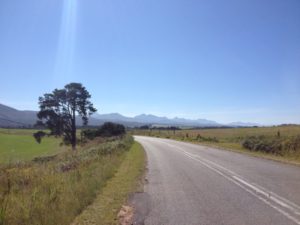 From there, I cycled a truly stunning road again. The road was closed for maintenance, but luckily they let the stinky cyclist go anyway, so I had the road to myself. It was easy going down, but I had already forgotten how much work it is to go uphill! I even stopped to check if something was wrong, but what was wrong was just me.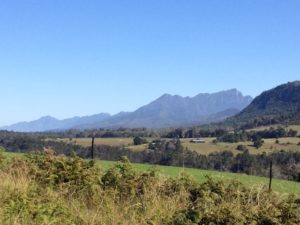 Then a beautifully gentle downhill to Wilderness. I must have stopped 10 times to take pictures. I arrived back at the Backpackers, reinstalled tent and hammock and met with Peter and Colleen, my future Warmshowers host for the next few days in Knysna. They stopped to say hi and see how I was doing, and they even offered me to housesit for them for a few days!!! I will ride to Knysna tomorrow, and we are supposed to go to a market in the evening. I can hardly wait! I haven't been to a market yet!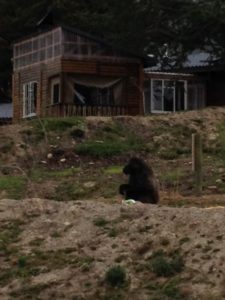 So this is it for now. More than 2 weeks into my trip, all is well, and I feel incredibly lucky to be here, to see all these amazing places and to meet such extraordinary people.