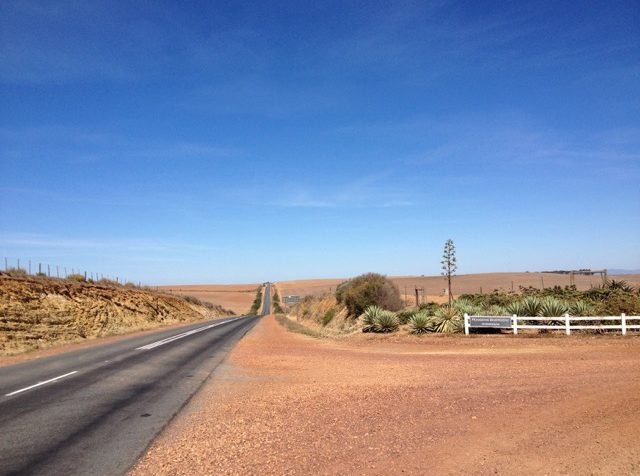 The Garden Route
The Garden Route
Another 3 days went by since I wrote a blog post. But each day is pretty full, and I have a hard time to believe I have only been cycling for just over a week. I am still amazed every day by the scenery and kindness of South Africans.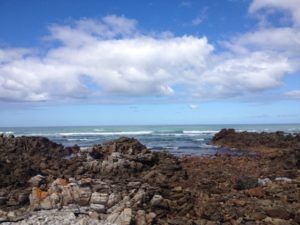 I spent two nights in Struisbaai, that place was so nice and I had a really pleasant surprise on the second night, the two Swiss cyclists that I had met on the road stayed there as well. So we went to the Cape again together and spent a really nice evening sharing stories. They traveled a lot on bikes and it was a real treat to listen to them. Again, it makes my little adventure seem very small in comparison.
From Struisbaai, I could have stayed in Bredasdorp but that was only 30 km and I felt like cycling more after a day off. So the next place was Swellendam, which was a very long ride.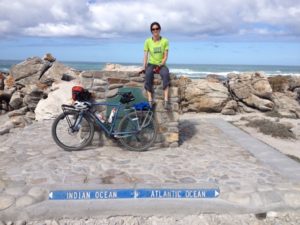 But so nice again. It looked a lot like the Canadian Prairies but with an African vibe mixed into it. Very light traffic, and lots and lots of hills. I worked very hard, and it was hot, but I totally enjoyed myself, and when I got into Swellendam, I was happy that I could manage a long hard day. Thank God it wasn't my first day though. I went to bed wondering if I would be able to walk the next day but the human body is truly amazing. If you keep putting food into it (lots of it), lots of water, and rest it for a night, it will recover and be ready to go the next day.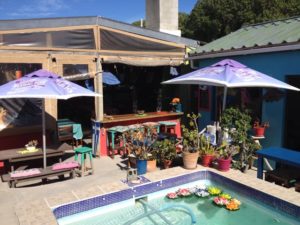 And the next day was going to be a hard one too: 36 degrees and again, a fairly long ride and nothing but hills. Luckily this also included some really nice downhills and I REALLY enjoyed them. Lots of smiling and also lots of times where I had to say waw out loud because some of the views are just incredible.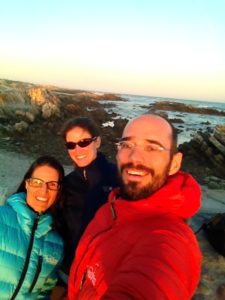 At times I heard some squeaky sounds, and I wasn't sure if it came from my bike or my body, but anyhow, we made it to a town called Heidelberg where I stopped for coffee and croissant. The croissant came with cheese and jam, and I laughed when I looked at my plate once I was done: it looked like I had licked the dishes, there was not a single calorie left on the plate.
From there, more hills to Riversdale where I stopped at a coffee shop again while I was waiting for my Warmshowers hosts Yvonne and Donald to get back home. The coffee shop was in an old jail, so I can now say I have been in jail in South Africa.
Yvonne and Donald were really great hosts. They are not really tour cyclists but they sure understand what it means to be touring on a bike. It started with the best orange juice ever: it tasted like heaven. Then I had a blissful warm shower (no pun intended), and then Yvonne asked for all my dirty clothes and did laundry. It felt amazing this morning to wear clean clothes again (but it didn't last….).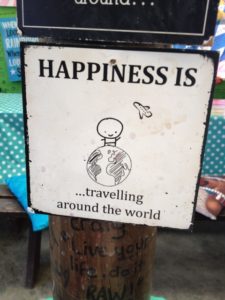 They then took me to the beach in Stillbaai, and we had ice cream to start my carbo-loading. Funny to be in a car, all I could say was: waw, I am glad I don't have to go up that hill!
Then back home where Yvonne made a delicious pasta supper and amazing greek salad and organic beets. Food just becomes so important when you cycle all day!!! Oh and then, more ice cream!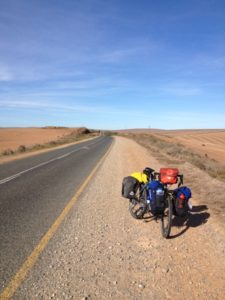 They even got up really early this morning to give me a great breakfast and send me off. I wanted to leave early to ride before it got too hot but today was much cooler, and I also learned a great lesson: put more air in your tires and life will be SO MUCH easier. I felt like I was flying today. I really, really should have done that 2-3 days ago…
Now I am in Mossel Bay. This is the start of the Garden Route. On my way today I saw my first 2 elephants, several ostriches and some nice birds. I forgot to mention my first live snake a couple days ago as I was walking back to my tent!
Now I have an afternoon and evening to enjoy Mossel Bay.