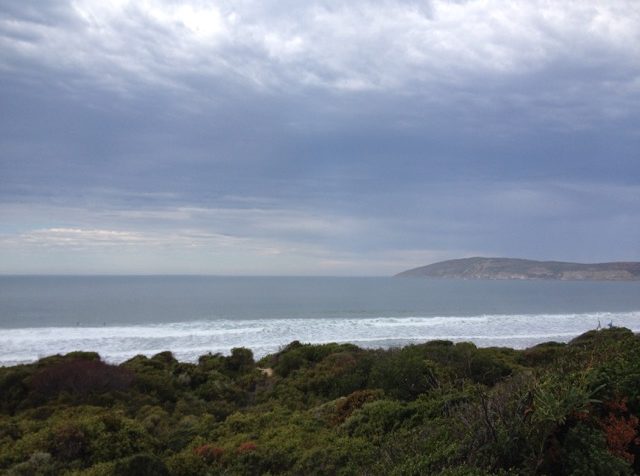 Surfing in Plett!
Surfing in Plett!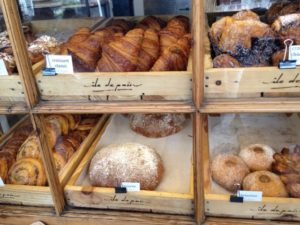 Another few days went by, and all of them as good or even better than the other, if that is possible. I can't say that I cycled a lot of miles, but I had an amazing time. I stayed 3 days in Knysna, with Peter and Col, 2 wonderful people that I had so much fun with. Even if they were super busy preparing their upcoming cycling adventure from Europe to Cape Town, they took the time to show me around their beautiful area. We went to the Heads, which is the entrance to the lagoon, we went to markets, we drove to the area where the rich people live in their gorgeous homes, we even watched a rugby game at the yacht club! We also had a great time looking at each other's gear and complaining that meeting other cyclists cost a lot of money as we realize (or think) that we need more or different gear!
The Saturday morning market in Sedgefield was certainly one of the highlights, with local fresh produces and crafts (again, food being such a central part of cycling trips…), and I had the immense pleasure to listen to the same guitar player that I had enjoyed so much in Wilderness. I even got a chance to buy his CD that I will certainly listen to as I drive across Canada next month!
It was hard to leave Peter and Col, I enjoyed their company so much, as well as their kindness and great sense of humor. However I wouldn't be surprised if we meet again some day, maybe as they travel in Africa over the next few months…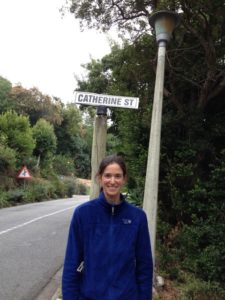 From Knysna, I had a really great time on the road. The scenery was again fantastic, and I arrived very early in Plettenberg Bay (AKA Plett). It was a very short day, but I wanted to stop there for 2 good reasons: the 2 Swiss cyclists I had met earlier on this trip were going to join me there, and Plett is a surfer's mecca: I had to try it!
So I did! I surfed! Well, let's say I tried to surf. I wasn't good, but I had a blast. The water was freezing cold, and I eventually had to stop because I couldn't feel my feet anymore. But I really enjoyed it and cycling back up the steep hill to the lovely Backpackers where I was staying warmed me up completely (and made me hungrier than ever).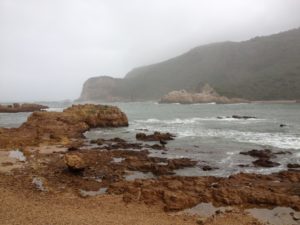 Arnaud and Anouk arrived shortly after. We spent the evening laughing and sharing stories and decided to ride to Storms River together the next day.
That was yesterday: what an amazing day. Of course, it couldn't have been a bad day because it started with the now traditional coffee and almond croissant. Did I mention that we ate that after having had already a huge breakfast? Anyway, the first section was a long gradual hill, but after that it was flat. Yes, South Africa has some flat sections. We had perfect weather, sunny and pleasantly warm, and hardly any wind, we rode a lot faster than we had ever ridden before, and I enjoyed riding with them so much, I honestly think I smiled all the way between Plett and Storms River. We are now near a National Park, so you can imagine how gorgeous the area is.And we stay at yet another fantastic
Backpackers, where they serve delicious food, this morning we have a buffet, we all wonder if they will charge an extra for hungry cyclists!